Are you committed to your unique passion and purpose?
– "Challenge yourself, and believe!" –
When I was 16 years old I studied French, loved photography and played the piano. I was Grade 8 classical trained and nothing gave me more joy than relishing a loud rendition of Rachmaninov. I loved it so much and felt real passion in this time. 
But then, I was good at maths and a degree in engineering awaited me. No time for my artistic pursuits, I knuckled down and studied. Little did I know then that it would be 30 years before I did scales and played the piano again.  I was encouraged to embrace a career degree, and in reality, I didn't stop to think about what my heart and soul were giving up, so that I could allay my ego's need for safety and security. I don't think I even thought about passion and purpose, I figured they were not practical and I needed to be able to take care of self. 
Twenty years later, when I had ticked all the "proper" boxes I realised in reality that I had ticked none of the "right" boxes. I had lost my voice. I felt suffocated. I was passionless and only had time for work. Then somewhere from the depths of my being, my soul voice whisper finally found a vibration that resonated in my heart – so began my soul journey to liberate self and to re-embrace my passions and re-evaluate my purpose in life. 
I walked away from my "proper" corporate career. I sold house, car and fridge and put my belongings into storage. I applied for a place at the Institute of Photography in Paris and extraordinarily I was accepted!!! I figured I needed to have faith in myself and that I would be "ok". I wanted to refocus my life on living dreams and give myself space to follow my heart – so what better place to connect to passion, than Paris?!
Wandering each day with my camera I began to connect with self. I started to take the time to breathe and see. I observed others and through the lens allowed a sense of beauty to fill my heart and soul. Not for one minute was I bored, I was alive in a way that I had never been before. Paris helped me find peace.  
But, you cannot stay forever in a dream world – well that is what I believed – and actually what I also came to realise is how much I loved my airport design career. I had just forgotten how to also have balance in my life. At the end of my year in Paris I was offered the opportunity to go and work on the development of a $7b USD new terminal development in Abu Dhabi. Magic – a great way to recoup the expense of Paris, and close enough for regular visits back with my camera. Somehow, I found a balance that worked. I photographed families, took forays to Rome, Sri Lanka, India and Europe with my camera and obliging models and through it all I started to redefine my passion and purpose. 
One day a colleague asked me why didn't I create a book of some of my Paris photographs and put words to the images. I wrote "Chasing Shadows – A Parisian Affair" and reconnected to a deep love of words. Time in the desert and escape from the heat enabled me to have the space I needed to let my soul's voice roar, and I found it had so much to say – who knew! 
Over the past seven years, I have continued to embrace my passions of photography and writing and to give my soul an equal voice in how I live my life and the choices I make. I have never been happier or more at peace. Don't get me wrong, life is not perfect, far from it, but it is really good and it is motivated by "how much is enough to live aligned to passion", rather than "how much can I earn."  
The greatest aspect is that learning to breathe has given me the space for gratitude, generosity and service that had previously eluded me – all because I dared to embrace my passion and purpose. 
Four years ago, my book "Liberating Self – A Soul's Journey" was published by Beatnik Publishing. It explored how facing fears and challenging yourself to believe in the whispers of your soul can often be the journey needed, if you want to live a life true to self.  
Yet, as time wore on I wondered about this aspect of "living true to self". So, I returned to my images of Paris, reflected, and wrote "Passion & Paris – A Soul's Prerogative." It's about the joy that can come when we choose to live a life focussed on our unique passion and purpose.  
I thought maybe you might like to read the first chapter – just hit on the button below to download. 
I hope you enjoy.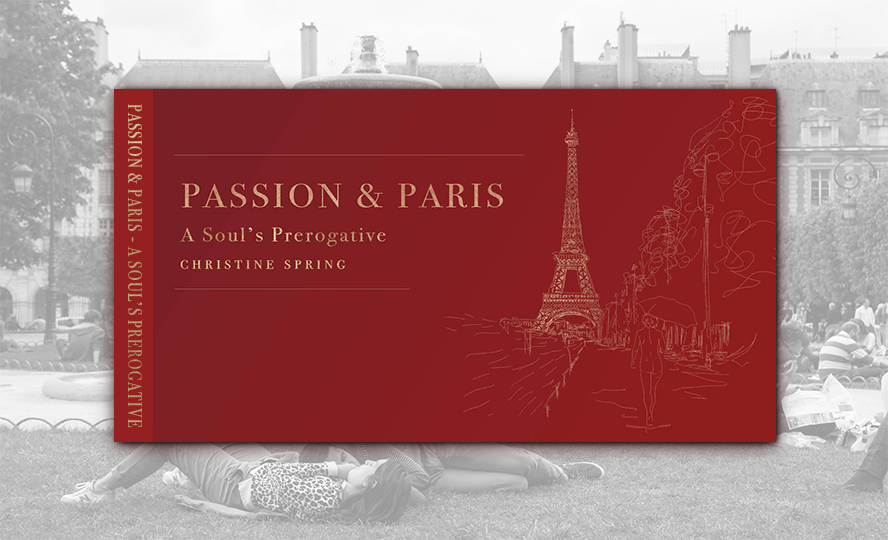 Thanks for being curious to connect and be inspired. 
Christine x 
Ps Check out my website and philosophy on www.christinespring.com
SaveSave
SaveSave